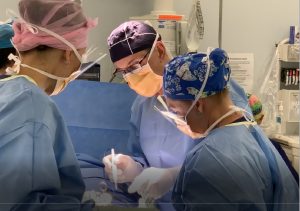 Dr Drago Popovic is a general surgeon with a special interest in abdominal surgery, laparoscopic surgery, colorectal surgery, proctology and trauma surgery. Dr Popovic uses a wide variety of general surgery procedures, including skin cancers treatment. He is a GESA certified endoscopist, regularly performing endoscopies and colonoscopies.
Dr Popovic is a fellow to the Royal Australasian College of Surgeons.
Dr Popovic has worked in European countries including Croatia, Slovenia and experimental work in Italy and the US.
He embraced the new technology of laparoscopic surgery in the early 90s and completed advanced laparoscopic training in the United States in 1995 and 1998.
In June 2000, Dr Popovic finished his research on the results of treating patients with low rectal carcinoma in the Clinical Hospital in Zagreb, and achieved his Doctor's thesis (PhD) in 2004.
As a member of the European Co-Inventor team in Rome in Italy since the year 2000, Dr Popovic has been involved in the invention of several surgical devices, and continues with new inventions in the field of colorectal and laparoscopic surgery.
Dr Popovic's education and training in different areas has allowed him to be a competent well-rounded surgeon skilled in all aspects of general surgery; especially abdominal surgery, laparoscopic procedures, proctology, hernia surgery, skin cancers surgery, military surgery as well as peritoneal dialysis catheters and portacaths insertion.
Dr Popovic has been a member of the Australian Conjoint Committee for the Recognition of Training in Gastrointestinal Endoscopy (gastroscopy and colonoscopy) since 2008, and is a senior lecturer at the University of Queensland.
Dr Popovic is experienced in trauma surgery and especially military surgery.